At the beginning of this year, the board of AIGA Indy took time to reflect on our purpose and priorities. We asked ourselves big picture questions—not just what we do, but why we do it and why that matters. We also heard from all of you, through informal conversations and our members' town hall meeting.
Together with that input, we developed our chapter manifesto: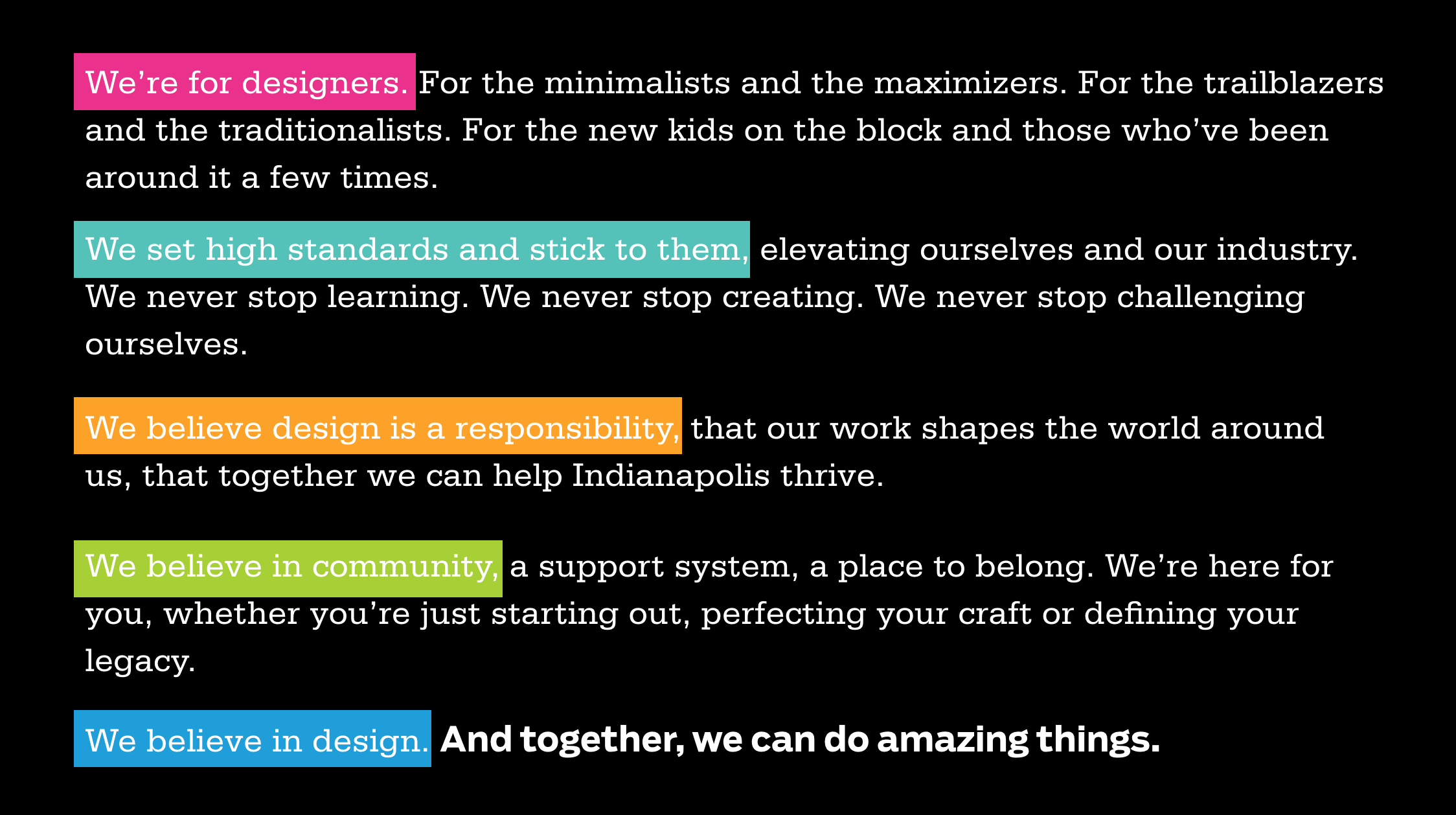 Our manifesto is a statement of our beliefs. It's here to remind us of our vision and serve as a rallying cry for our members. And we're taking an opportunity now to share a bit more about the core ideas behind it and what it means for us practically:
Design for all.
Our chapter is here for all designers—no matter what your skill level, interests, industry or focus. We develop our initiatives to offer something to creatives at all stages of their careers and make sure everyone feels welcome.
Design for excellence.
Our members are passionate about design. When we come together, we sharpen our skills. We push ourselves and one another by sharing what we've learned, offering constructive criticism, and encouraging each other to keep going.
Design for good.
Design is powerful. It gives us a platform, a way to shape our city and our world. Together, we use our voices to speak up for what's important, give back to our community and empower other designers to do the same.
AIGA is a lot of things to a lot of people: an entryway into the field, a place to make connections, a way to share knowledge, a chance to give back. Our members have diverse skills and interests, and our initiatives reflect that. But the same mission is at the core of everything we do. We're excited to keep carrying out that mission with you.
• • •
Like what you read? Check out more events and blog posts from AIGA Indy. Find us on Twitter, Instagram, and Facebook.