For me, becoming a better designer started with a (cheap) pen.
Somewhere in their careers, most designers have had that project – if only once. Either you're just starting your career or you're really lucky if it's only been once.
It's routine. It's not hard. It probably involves resizing a logo to a bafflingly small imprint area. It's probably outstandingly frustrating, partially because it requires no skill, but mostly because another cheap pen isn't going to fix the client's problem.
This isn't really about the pen. (I hope you've picked up on that by now).
If you've never been to an AIGA event, we start things off by reading our manifesto. It's a good manifesto. Go on now, we even linked to it for you.
I want you to pay special attention to the third line; 'We believe design is a responsibility, that our work shapes the world around us, that together we can help Indianapolis thrive'.
Okay, since you've made it this far, look around – I mean metaphorically, unless you're reading this from a coworking space or office. If that's the case, just be subtle about it. Seriously, don't make looking around weirder than it needs to be.
Good. Now, tell me: who's shaping the community around you? Is it you? What about your work? That thing on your screen isn't just an interface or artifact ready to be made physical. It's an emotion. It's a dream come to life. It's a message you're sending out to the rest of the world. Someone is going to see it, engage with it. When it speaks to them, what will it say? What impact will it have?
Here's what this is really about: There are designers everywhere using their work to craft a community better than they found it. They see the possibility of what could be or the lack of what needs to be, and they make it happen. This might be in their workplaces, their neighborhoods, or even professional fields where you'd never expect to find a designer.
The Designing for Impact series will focus on Indiana designers, how they're making a difference in their communities and professional fields, and how they continue to push the boundaries of the impact design can have.
______________________________
To kick off the first installment in this series, we spoke with Collabo Creative partners Terri Wada and Pamela Napier regarding their work with Community Innovate on their 2017 Indy Healthy Food Access Challenge.
Before we dive into the interview a bit of background on this challenge: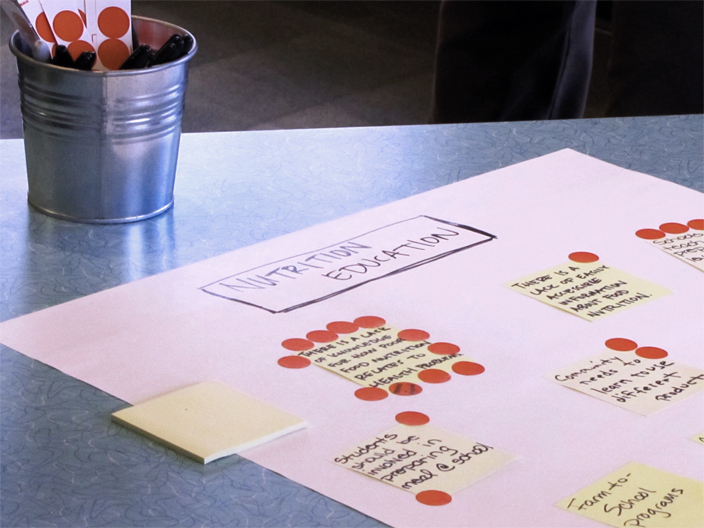 In 2014 Indiana was ranked among the worst in the nation in terms of food deserts. Food deserts, according to the American Nutrition Association are defined as "parts of the country vapid of fresh fruit, vegetables, and other healthful whole foods, usually found in impoverished areas. This is largely due to a lack of grocery stores, farmers' markets, and healthy food providers." In 2017, with the closure of Marsh grocery stores across the state this problem was growing, especially in the downtown area and surrounding communities.
Terri and Pam, tell us more about Community Innovate, and how you got involved with the challenge.
CommunityINNOVATE, started by Stephanie Fernhaber of Butler University, is an initiative that "uses an open innovation platform to leverage the power of the greater Indianapolis community and the human-centered design process to co-create innovative and sustainable solutions to local social issues." Stephanie had sought out Collabo to utilize our expertise in Design Strategy and People-centered Design to help shape the process, approach, and methods for engaging with people in communities.
What about this project really drew your attention?
At Collabo, we've been carrying out people-centered design projects since we started up in 2012. Most of these projects involved bringing end-users and stakeholders together, in order to create better services and products. We're talking small-scale type of stuff, something like bringing around 50-100 diverse perspectives together throughout a design process. Nothing too major—although, we did take a group of about 200 emergency management folks through a design sprint one afternoon. Through the CommunityINNOVATE platform, we saw this as an opportunity to bring our design approach to the communities and neighborhoods in Indianapolis – thousands of people! So of course, we had to jump at that.
Additionally, leveraging the potential for design to create positive social impact has personally been a passion of mine since I chose to leave the visual design profession back in 2009. Since then we've been engaged by several non-profits to help them reframe problems and develop solutions that impact social issues like public health, emergency management, and disaster response. This work is always rewarding in ways that go well beyond financial, the design solutions implemented in these spaces live on to impact so many lives and improve our society as a whole. Back in the 1970's, Victor Papanek called upon us designers to take on the challenging issues that he could foresee surmounting in a post-industrial, consumerist society. Thus, CommunityINNOVATE just seemed like the good thing to do.
How did utilizing a design-focused approach make a difference?
Through using our design process as a framework for this initiative, we were able to maximize the amount of people able to participate in creating change. It basically provided an underlying framework for multitudes of people to work together, or design together, to meet similar objectives over a period of four months.
Collabo acted as 'Lead Design Strategists' for this project, functionally what did that look like?
Functionally, it meant developing the strategy, process, and methods most appropriate for engaging with stakeholders, communities, and residents throughout the project. We worked collaboratively with Stephanie and Shellye Suttles, Food Policy and Program Coordinator for the City of Indianapolis, to analyze and synthesize the data that we collected from both in-person events and submissions to the web platform. We helped facilitate the process of what activities would happen, what they would look like, how they would work, and how the outcomes would then be shared back through the online platform.
For designers who are interested in tackling projects like this, what's your advice? Any challenges to watch out for?
When collaborating with others it is paramount to be sure that everyone has a shared understanding of what goals and objectives the project is trying to achieve. Ensuring that multiple project partners are on the same page can sometimes be a challenge, so finding ways to be sure that questions, activities, and delivery of materials are aligned is important.
What was the impact of this challenge?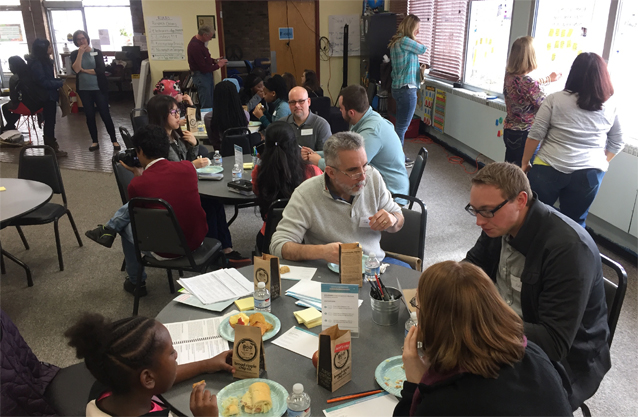 Each of the four time-boxed phases brought out astounding numbers of citizens who wanted to be engaged in the project. During the first "Inquire" phase, 300-400 local residents were engaged and talked with regarding food challenges. During the "Ideate" phase, seven different brainstorming sessions were held throughout Indianapolis, engaging nearly 400 citizens (while concurrently the open platform website allowed people to submit ideas digitally). Altogether, 271 ideas were submitted for how to solve the identified challenges that had come out of the Ideate phase. In the "Investigate" phase, more than 45 community stakeholders from a variety of backgrounds participated in the day-long Make-a-Thon.
Another piece to highlight would be the addition of Do Something Grants, (given after the "Impact" phase concluded) which were micro-grants that were designed to help spur action and further support the development of solutions by the "do-ers." Thanks to Mercy Road Church, $10,000 in these micro-grants was awarded to 20 solutions that addressed food access.
While the Indy Healthy Food Access Challenge was insightful within the Indianapolis community, it is our hope that such a design thinking approach can be replicated in other communities in addressing food access.
We've also recently written a paper with Stephanie and Shellye that will be published in the International Journal of Public Affairs at the end of 2018, titled: "Engaging Diverse Community Stakeholders to Co-Create Solutions in Food Deserts: A Design Thinking Approach."
What's next for Collabo?
This past year, we had the opportunity to work with Stephanie and CommunityINNOVATE again and have recently wrapped up the Youth Empowerment Challenge (follow the link to learn about the innovations that came out of this challenge).
As for Collabo, we're working to create more opportunities to bring Design Thinking and People-Centered Design to the greater community. We've recently launched our first, open to the public, Design Thinking training program and will be continuing to develop more professional enrichment programs that help everyone design better together.
______________________________
To check out the final community solutions of Collabo's challenge, visit http://www.communityinnovate.org/category/solutions/.
______________________________
Be sure to check out our manifesto and let us know who's making an impact in your community. We'd love to get a chance to talk with them and tell their story. Email Emily at emily@indianapolis.aiga.org if you have someone in mind!