Lilly's logo, the Ball mason jar, a Cummins decal, the Flag of Indianapolis
You've seen them. You recognize them. If you had to, you could sketch their images from memory. If you're a designer from Central Indiana, you probably already have. Join us for the kickoff of our AIGA Indy Homegrown series to find out what makes the logos and symbols of these Indiana brands so iconic.
Explore Indiana's regional design history during a rapid-fire lesson with Commercial Artisan and the writers of their newest edition of Commercial Article: Symbols of Indiana. Meet other local creatives, learn about Indiana's exemplary symbols, and celebrate how they continue to inspire and evolve our community.


Share locally created logos with #AIGAIndyHomegrown
Have you or someone you know designed a logo or symbol for a local organization? Want to share with us some of your favorite symbols from the community? Send them over to stark@indianapolis.aiga.org or share them using #AIGAIndyHomegrown, and we'll display them at the event!
--------
Thank you to The Hatch for hosting the first event in our AIGA Indy Homegrown series and to Centerpoint Brewery for providing beverages. AIGA members in attendance will receive one complimentary beverage and an automatic raffle entry for a free Commercial Article publication! Additional publications will be available for purchase.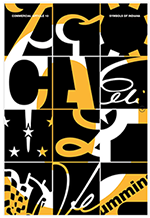 About Commercial Artisan
Commercial Artisan is the Indianapolis-based graphic design studio of brothers James and Jon Sholly. Founded in 1990, the brothers adopted the name Commercial Artisan as an only slightly tongue-in-cheek tribute to the erstwhile notion of the commercial artist. Their work — for foundations, arts institutions, corporations, universities and friends — is rooted in a belief that there is a creative opportunity to be found in every assignment.
Sponsors