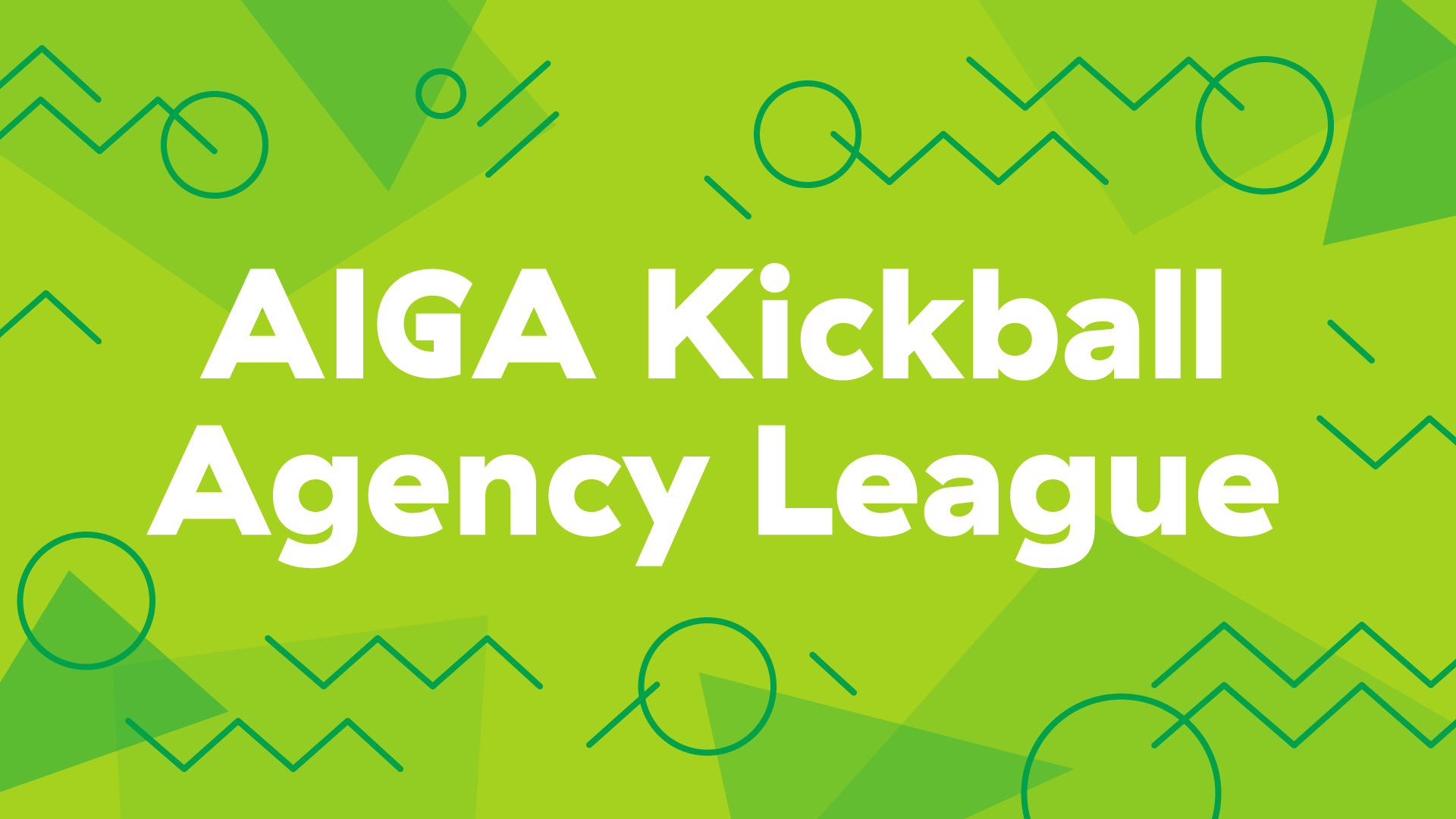 The 2020 league will be here before you know it!
Attention kickball players, coaches, and fans: You know the drill. Dust off those cleats, stretch your legs, and start making a spot in your office for that four-foot trophy; AIGA Kickball is back better than ever.
AIGA Kickball is a fun opportunity for eight courageous teams to spend Wednesday evenings battling it out to be on top, while bonding with co-workers and making new friends with other agencies. No matter your kickball skills, this league is an opportunity to step outside the office and connect with creatives over friendly competition.

2020 Dates: TBD
Location: Riverwood Park, 7201 Crittenden Avenue (only 4 mins north of Bripp Park)
Game Times: Session 1 at 6:00 pm, Session 2 at 7:15 pm
Cost: AIGA Group Membership $350 | Non-Group members: $450
---
FAQ
Who can play?
Companies whose main service offerings are creative or design related. (Example: Marketing/Ad Agencies or Design Studios) We encourage small companies to partner with another small company or in-house team to create a team! You need a minimum of 10 players to make a team.
What if my company doesn't have enough people to play?
We encourage small companies to partner with another small company or in-house team to create a team! You need a minimum of 10 players to make a team.
I am a freelancer, can I play?
We do not currently have a freelance team. If you are interested in playing please contact kickball@indianapolis.aiga.org and we will try to place you on a team that needs extra plays. No guarantees though.
How many people make up a team?
Minimum of 10 on your roster. A roster is the list of people who will make up your team for the season. You will need to turn in a lineup each week of whom from your roster will be playing that game. 9 people play on the field at one time.
When does registration start?
Registration opens June 5th and will stay open until all 8 available spots are filled. It does fill up quick!
How long is the season?
Wednesdays for 8 weeks, from July 10 thru August 28. ( Sep 4th is reserved for a rainout day)
Who refs the games?
Each team will need to identify 4 members of their team to be refs. These people will ref 2-3 games during the season, but never conflicting with their own games. These refs will be required to come to a ref meeting on Monday, June 24 at the Pin Bureau to review the rules and clear up any questions.
What happens if we do not attend the referee meeting on Monday, June 24th?
Your team will automatically be knocked down one spot in the final standings that determine the championship games.
When will we find out the schedule?
The schedule will be shared at the referee meeting on Monday, June 24th.
If someone at my office can't play but wants to watch, can they come?
YES! We encourage you to invite your whole office to come out. Bring a radio, a fight song and work on some office bonding.
What if I can't make the early games but we can the late?
Each week the games rotate times. If you know your team will never be able to make a game slot you should not sign your team up.
I am an AIGA member, can my team use the membership price?
No. Your team must be registered with a group membership in order for to be eligible for the membership price.
Do we have to create shirts for the league?
No, but we encourage it as it distinguishes each team like jerseys.
Where is the after party?
Everyone from every team is encouraged to go to Condado in Broad Ripple after their game each week. Each player gets a free taco. It's a great time.