AIGA Indy Kickball | August–September 2023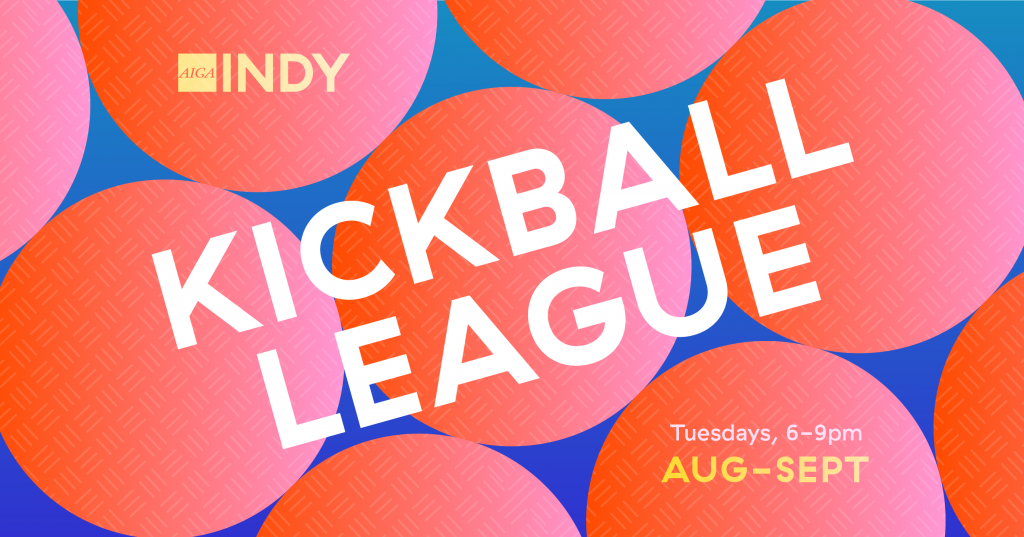 Attention creatives and kickball fans!
Dust off your cleats, stretch your legs and start making a spot in your (home or work) office for that four-foot trophy. We're looking for eight courageous teams to spend Tuesday evenings battling it out to be on top while bonding with co-workers and making new friends with other local creatives.
The teams must have 10 players. While we ask that the bulk of the teams be designers or creatives, feel free to have friends and spouses be a part of the team. All players must be at least 21 years old.
NEW: Want to play kickball but don't have a team? Solo registration is available through noon on Saturday, August 5. Click here to register.
Season Details
When: Tuesday evenings from August 8 to September 19 (8 weeks) at 6–9 p.m.
Location: Arsenal Park, 1400 E 46th St, Indianapolis, IN 46205
Game Times: Session 1 @ 6:00 pm, Session 2 @ 7:15 pm
Registration Information
Registration: July 13 – July 28
Cost: AIGA Group Membership $350 | Non-Group members: $500
Team Requirements: 10 players minimum; must be 21+ years or older
…
---
…
FAQs
How many people make up a team?
Minimum of 10 on your roster. A roster is the list of people who will make up your team for the season. You will need to turn in a lineup each week of whom from your roster will be playing that game. 9 people play on the field at one time. All players must be 20 years or older.

Who can play?
Designers, creatives, friends, and spouses. In years past we only allowed companies to play. This year we're giving creatives, who might not work for a big enough company, the opportunity to join. We still encourage small companies to partner with another small company or in-house teams to create a team!

I am a freelancer, can I play?
We do not currently have a freelance team. If you are interested in playing please contact kickball@indianapolis.aiga.org, and we will try to place you on a team that needs extra plays. No guarantees though.

Who refs the games?
Each team will need to identify four members of their team to be referees. These people will referee 2-3 games during the season but never conflict with their own games. The referees are required to attend a referee meeting prior to the season starting to review the rules.

What happens if we do not attend the referee meeting?
The referee meeting will be on July 30 @ 6 pm. Your team will automatically be knocked down one spot in the final standings that determine the championship games.

When will we find out the schedule?
The schedule will be shared at the referee meeting. The referee meeting will be on July 30 @ 6 pm.

If someone at my office can't play but wants to watch, can they come?
YES! We encourage you to invite your whole office to come out. Bring a radio, a fight song, and work on some office bonding.

What if I can't make the early games but we can to the late games?
Each week the games rotate times. If you know your team will never be able to make a game slot, DO NOT sign up.

I am an AIGA member, can my team use the membership price?
No. Your team must be registered with a group membership in order to be eligible for the membership price.

Do we have to create shirts for the league?
No, but we encourage it as it distinguishes each team like jerseys.

Where is the after-party?
That's still TBD.