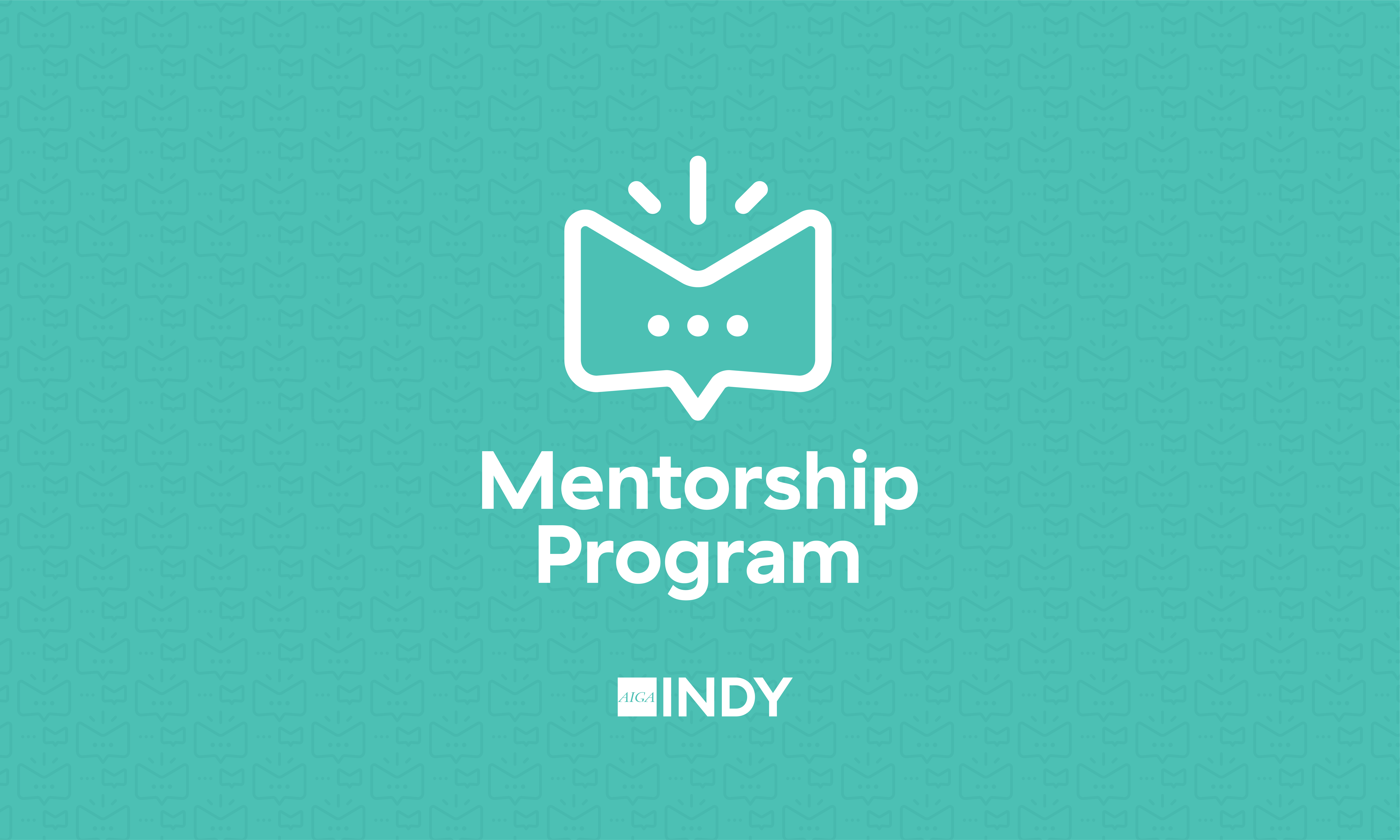 AIGA Mentorship Program
The mentorship program is an amazing way to get involved in Indianapolis's rich design community and help make it even stronger. Mentors and Mentees are comprised of professionals from a spectrum of creative fields and career levels. The AIGA Indy Mentorship program is a flexible 3-month program designed to support creative individuals across disciplines making new connections, exchanging inspiration and celebrating our diversity as a community.
Rather than pairing a single mentor and mentee, each mentee will have access to a range of mentors from different disciplines through one on one sessions and group learning opportunities. This flexible setup accommodates busy schedules while allowing for individuals to explore both a range and diving deep into the topics and interests that will best suit their unique career path.
Anyone can be a mentor or mentee, you decide at what stage you're at.
---
How It Works
1) 1:1 Meetings
During the 3-month program, mentees are encouraged to review the mentor's provided bios and schedule 6 1:1's with mentors they are interested in meeting. Mentees can select 6 meetings with 6 different mentors or schedule repeat meetings with someone they connect well with.
2) Discussion Groups
Group topic meeting such as Be a Better Freelancer, CMY-Kickstarting Your Design Career, UX Design Ins and Outs, Design at Scale, and Making the Leap to an Art Director will be lead by select mentors. Mentees select which group they want to be a part of and each group will meet 3 times during the program. These focus groups allow for you to get to know the members of your group and learn from one another in addition to the mentor.
3) Closing Happy Hour
Because there is no better way to end a mentorship program than a party and opportunity to connect with everyone.
---
Who Should Apply
Mentees
Looking to kick your career development into the next gear, uncertain of your next move or looking to learn more about a new design discipline? You're probably a great mentee candidate.
Mentors
Looking to give back to the community or have some expertise to share? Do others frequently seek your input or feedback? You're probably a great candidate to be a mentor.
---
Mentor Expectations
Using Calendly, indicate a minimum of 1-hour time slots over the course of the 3-month program (August through October) that you would be available for 1:1 meetings with mentees. Not all slots will be filled. Meetings are in encouraged to be face to face, but video calls are also an option. [Any food or beverage cost is out of pocket]
Be curious about mentees, their goals and aspirations, respectful of individuality and of the many paths a design career can take.
If interesting in being a group discussion leader,  you would lead 3 small groups meetings throughout the program. This would include setting the specific topic, time and location for the meetings and arranging details with the group who have signed up for that topic.
Be available to attend the Closing Happy Hour to meet with other mentors and mentees.
Mentee Expectations
Using Calendly, schedule 6 1:1 meetings over the length of the program (August through October) and initiating the relationship with mentors. This includes an introductory communication with a brief idea of what you would like to discuss during the meeting so both parties can come prepared. [ Any food or beverage cost is out of pocket]
Indicate what group topic you would like to join. Attend and participate in 3 the group discussions where you will learn from the group leaders knowledge and experiences as much as you learn from others.
Maintain a professional standard of communication when working with mentors and fellow mentees.
Be available to attend the Closing Happy Hour to meet with other mentors and mentees.
Application Open JULY
---
Potential Group Discussion Topics
CMY-Kickstart Your Design Career
Finishing school? Looking for a career change? Learn the ins and outs of getting your design career off the ground at light speed.
UX Design Ins and Outs
Interested in learning about User Experience? Or are you a working professional in UX looking to advance your skills? We will have various UX-focused themes from basic UX skills, design thinking and team collaborations to choose from based on your experience level.
Be a Better Freelancer
This group, led by a working freelancer, helps those currently freelancing build better skills, or those looking to freelance with ways to get started. From pricing to getting yourself out there, you'll walk away ready to work for yourself.
Making the Leap to an Art Director
How does a designer transition into an Art Director role? How is this title different across different companies? This group will help you make that jump successfully.