However, as a local designer, I still feel envious of other cities who have a stronger, integral creative culture. There is SO MUCH that creativity and design could do to continue to boost the reputation of Indianapolis but to do so, we also have to support the creatives who live here. How could we develop a deeper commitment to collaboration, a support system for development, and a platform for celebrating good work? As President of AIGA Indianapolis, I posed these same questions to the Board this year at our retreat. Here's what we want to do about it:
Wait, who's AIGA Indianapolis?
During months of conversations with members and folks in the community, I recognized that we were in dire need of an updated description– an understanding of what our chapter's mission is and what role we play in the community. Even though we have been a chapter for over 25 years, we have recently broadened our lens on how we support our members and local creatives alike. Therefore, we figured it's time to redefine our vision and how we plan to affect the reputation of Indianapolis's creative culture.
I'm excited to share it with you here:
Our Vision. What we want to achieve:
Our Mission. What we plan to do and for whom:
We even defined each value prop: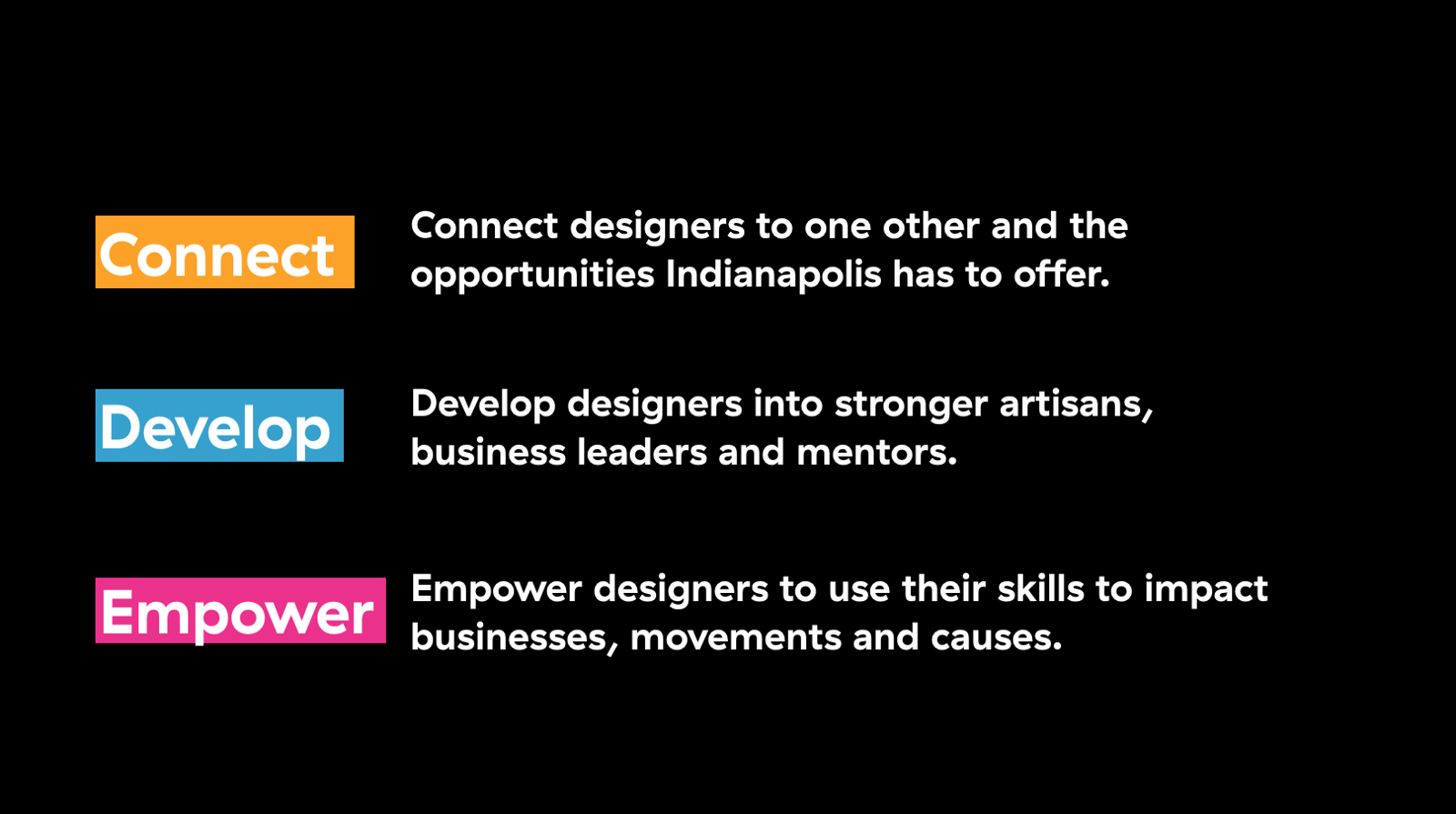 How will AIGA move the needle?
It's easy to say you are going to do something, but it's harder to put it into action. To keep ourselves accountable towards our mission, we have four objectives for the next year:
1. Improve board management, communications, and engagement.
We can only support the community as long as we are supported and organized ourselves. It's essential that our framework attracts and retains local leaders who are passionate about making a difference for years to come.
2. Increase AIGA's collaboration with creative organizations and individuals.
Creating a thriving community won't happen if we have to do it alone. We are fortunate to have many excellent creative organization in town, and we want to support and partner with all of them. We plan to continue the initiative our Design Impact team started last year with the Creative Community Network. This network of 10 local non-profit organizations strives to encourage open the lines of communication, shared resources, and collaboration. The next step is to do the same thing for individuals who have ideas on how to improve our community.
3. Focus internal programming efforts on community gaps and signature events.
We recognize that not only can we not do it all, we also don't want to. Remember, we are all volunteers; therefore, we should dedicate our time to things that will indeed bring value to the community. To do so, we will examine the landscape of available creative programming/resources and compare that to the needs of the people within the community. We want to understand what needs are being met and identify gaps that need to be addressed. Our goal is to focus our internal programming on those gaps, such as mentorship and tactical development opportunities. Then, we will contribute more support to external programming/resources which already meet the needs of our community, such as Creative Mornings and Experience Makers meet-ups.
4. Improve membership experience and involvement opportunities.
When it comes down to it, we are an organization powered by the support and engagement of our members. We will dig deeper than we ever have before to understand how to help members get what they need out of their membership. Whether it's connecting with others, receiving tangible benefits, being recognized by your community, or having the opportunity to give back, we want your membership to feel valuable. If you're supporting the creative community, we want to make sure we're supporting you.
Let's Do This Together
As you can see, we have a lot of work ahead of us. Through our three values, connecting, developing, and empowering designers, we will start to inch closer to our vision of creating a thriving creative community. My amazing Board of dedicated community leaders is excited to put our objectives into motion but we need your support. If you're not an AIGA member already, I encourage you to look into it. You'll get to be a part of what we're building and your membership dues help us execute on our mission. (not to mention, you'll also get access to all the great national perks.) If you are already a member and want to get more involved, you can help us by:
Teaching a workshop or speaking at an event
Donating your office space for events or meetings
Writing a guest blog post on a topic you're passionate about
Leading an initiative or meet up
Connecting us to potential partners or resources
Sharing our content/programming with your networks
Additionally, we are always looking for team volunteers, community collaborators, and sponsors to help us along the way.
Thank you to everyone who has helped us get to this point and cheers to the next chapter of creating a thriving creative community together.
Best,
Kolby McElvain
AIGA Indianapolis President